Of Fae & Fiends - 'Tapes in the Attic'
2 years ago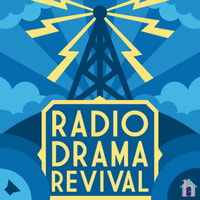 Monsters may not always have fangs and sometimes they eat children, but in the land of Faerie the courageous can fight back. Join Lizzie on her adventure down the rabbit hole with Of Fae & Fiends.
Like what you hear? Us too. You can support Of Fae & Fiends and Final Rune Productions on their website.
Learn more about how to support Radio Drama Revival on our website.
This episode of Radio Drama Revival was recorded in the unceded territory of the Kalapuya people, the Clatskanie Indian Tribe, the Cowlitz Indian Tribe, and the Atfalati tribe. Colonizers named this place Beaverton, Oregon.
If you are looking for ways to support or donate to Native communities, the Quileute are fundraising to move their at-risk community to higher ground, and out of the tsunami zone, so that their culture and heritage can thrive for generations to come. Their first objective is to move the Quileute Tribal School, which is currently located right next to the beach, endangering the lives of children and the future of the Quileute tribe. You can learn more and donate at https://mthg.org/.