Midst - 'Unrise' & 'Secrets'
a year ago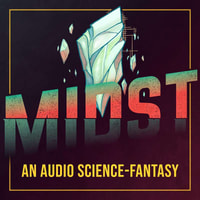 Fall into the strange world of Midst, where the moon is falling, the vibes are shady, and the narrators are unreliable. This week, we're showcasing the sci-fi podcast's first two episodes.
Like what you hear? Us too. You can support Midst on Patreon.
Learn more about how to support Radio Drama Revival on our website.
This episode of Radio Drama Revival was recorded in the unceded territory of the Kalapuya people, the Clatskanie Indian Tribe, the Cowlitz Indian Tribe, and the Atfalati tribe. Colonizers named this place Beaverton, Oregon.
If you are looking for ways to support Native communities, you can donate to the Navajo and Hopi Covid-19 Relief Fund linked in our episode description below, or at https://www.navajohopisolidarity.org/. It is organized by Yee Ha'ólníi Doo, a grassroots and indigenous led non-profit organization.