NIGHTLIGHT - Tonia Ransom
a year ago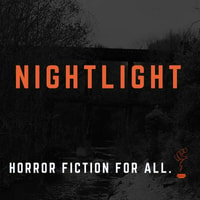 Join Ely in this conversation with NIGHTLIGHT creator Tonia Ransom, in which the two discuss the rise of Black horror, tension and suspense in fiction, what makes a good twist ending, and more.
Like what you hear? Us too. You can support NIGHTLIGHT on the show's site.
About Radio Drama Revival:
Learn more about how to support Radio Drama Revival on our website
Support Elena Fernández Collins on Patreon
Support Wil Williams and Anne Baird on Patreon
Support Eli McIlveen and Sean Howard on Patreon
Find Fred Greenhalgh on his website
Find David Rheinstrom on Twitter
Find Rashika Rao on Twitter
You shall not find the elusive Heather Cohen
This episode of Radio Drama Revival was recorded in the unceded territory of the Kalapuya people, the Clatskanie Indian Tribe, the Cowlitz Indian Tribe, and the Atfalati tribe. Colonizers named this place Beaverton, Oregon.