Patreon Content - Blackmail File
7 months ago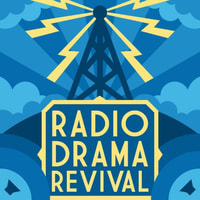 When you work on a large team, every person has their job to do... but what happens when you trust your audio editors and line producers with your audio files? Bloopers, of course! This audio was originally released for supporters of our Patreon account.
If you'd like access to more bonus content like this and support the show, you can support Radio Drama Revival at Patreon.com/RadioDramaRevival.
Learn more about how to support Radio Drama Revival on our website.
This episode was recorded in the unceded territory of the Lenni Lenape people. Colonizers named this place Point Pleasant, New Jersey.
If you are looking for ways to support or donate to Native communities, the Kamloops Aboriginal Friendship Society are seeking donations to build a new center. KAFS offers many services and programs for urban-located Indigenous people, such as healthcare initiatives, outreach programs for children and adults, childcare, and food hamper and nutrition programs. You can support them at https://charity.gofundme.com/o/en/campaign/newfriendshipcentre, spelled C-E-N-T-R-E, which is linked in the episode description.